Going In Style Travel Laundry Clothesline and 7 Woolites Kit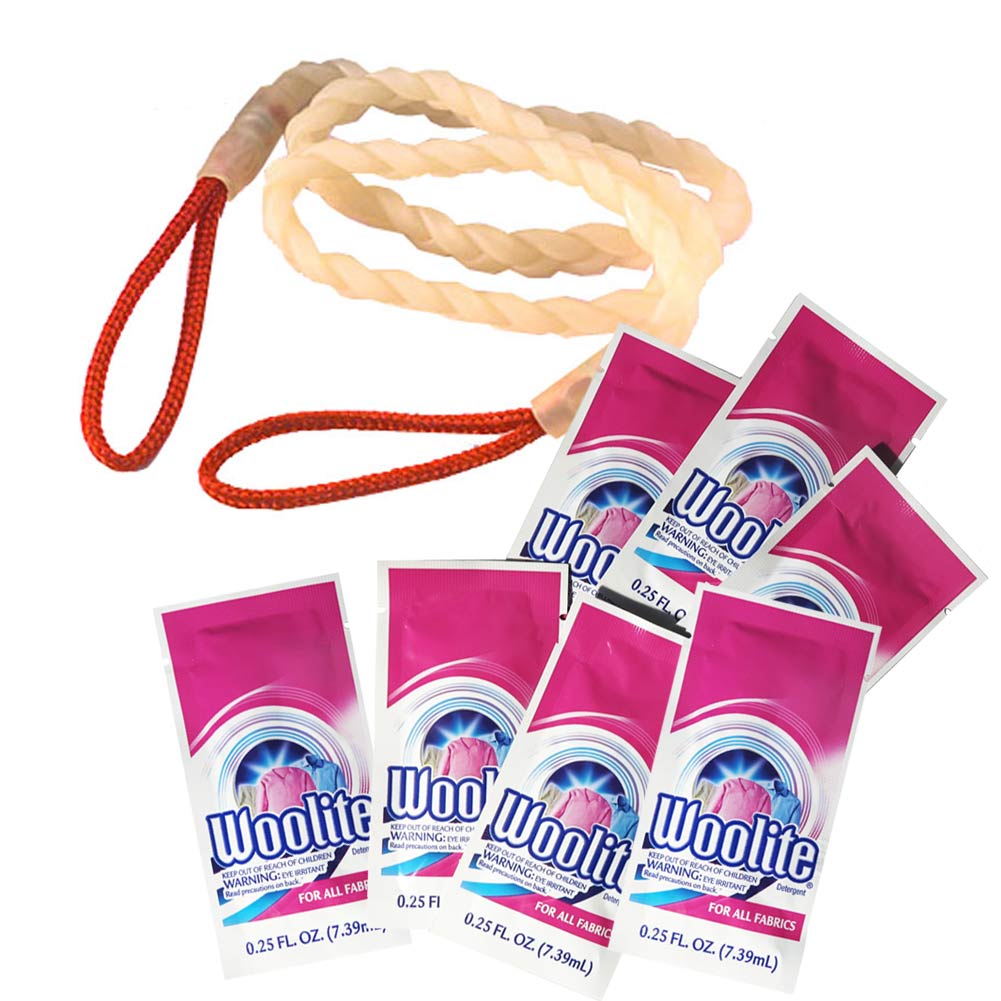 Going In Style Travel Laundry Clothesline and 7 Woolites Kit
Portable traveler's laundry line conveniently lets you dry your hand wash, socks, undergarments or other clothes overnight. Bring this super strong clothes line + 7 Woolite packs when you travel so you can wash your laundry no matter your destination. Gently launder your travel outfits while camping, backpacking or staying in a hotel. Going In Style's Laundry Clothesline and Soap Kit is sure to keep your clothes smelling fresh and clean.
Made for travel - this very high quality flexible clothesline can meet the various needs of travelers for that quick overnight wash. Very strong travel clothesline has loops on both ends that can stretch across the bathroom up to 7 feet and be attached to a shower head or towel rack. Loops around itself at one end around a towel rack and then use the included set of 2 ties and 1 Velcro strap to secure it to itself at the other end around another secure rack, shower head or door knob. Doing a quick overnight wash of your travel laundry has never been so easy.
Clothesline and Detergent Laundry Kit Features:
Portable traveler's laundry line conveniently dries your hand wash, socks, undergarments or other clothes overnight
Simply attach your damp clothes through the rubber braiding - no need for clothespins
Clothesline is made of a surgical quality braided rubber tubing that will last for decades
Travel clothes line and accessories pack up inside its own 3 x 5" pouch - Tan rubberized cord + red loops
Whats in the GIS Box: Clothesline, 7 pack of Woolite, 2 ties, 1 Velcro strap attachment, white cloth pouch for travel
Color: Light Tan braiding with Red Loops and 2 Yellow Ties with black Velcro attachment.
About Woolite
Leave your big bottle of Woolite Soap at home and take these small travel packs of liquid laundry soap along. Great for hand washing your dedicates and fine clothing.
Each travel pack of Woolite Liquid gentle laundry soap contains 0.25 oz of detergent.
Woolite® helps to keep your clothes looking like new by giving them the right balance of cleaning and caring. It's simple! All Woolite® products are liquid detergents, so you can use them in your washer like a regular detergent.
You can use Woolite® for all your clothes. Always remember to look at washing instructions for your clothes before washing them.
Always follow the washing instructions on your clothing label. Woolite laundry soap will work in warm or cold water. When washing new clothes for the first time, wash separately because colors can run. Woolite laundry soap will work in washing machines or for hand washing clothes. Woolite detergent for all fabrics, will protect your clothes from color fading, stretching and fading.
Liquid detergents are often easier to use: they dissolve faster in the wash, they are simpler to dispense and they do not leave residue on the clothes. By adding a stain removal product, such as Resolve® Fabric Treatment, a detergent can ensure that even the toughest stains disappear - without harming fabrics and colors.
After washing your clothes be sure to follow the garment label for drying instructions. Some clothes can be dried in the dryer. Delicate clothes and knits should be laid flat to dry. Some clothes should be hung to dry.